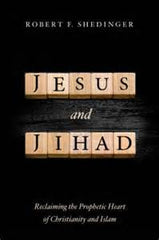 Jesus and Jihad by Robert F. Shedinger
Jesus and Jihad argues that in early Muslim sources jihad stood for the struggle to transform a violent and unjust pre-Islamic society into one characterized by greater levels of justice and peace. When rescued from his Christian pietistic misinterpretations, Jesus emerges as a highly prophetic figure of resistance to the injustices authorized by Roman imperial power. 
As Muslims reengage an authentic understanding of jihad, and Christians, through a renewed understanding of jihad, meet the prophetic Jesus from whom they have become estranged, a new era of Christian-Muslim cooperation in the struggle against injustice can become the norm, replacing the current antipathy dividing these communities with a passion to reclaim once again a prophetic heart in service to a hurting world. 
Paperback 166 pages