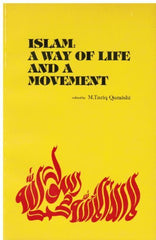 Islam: A Way Of Life And A Movement edited by M. Tariq Quraishi
Islam: A Way of Life and a Movement is a collection of articles by several eminent contemporary scholars; it discusses the meaning and application of Islam in the lives of individuals and in society.
Authors represented include 'Ala Maududi, Jamal A. Badawi, M.M. Azami, Fazlur Rehman, Jamal al-Din M. Zarabozo, M.A. Draz and others. 
Paperback 221 pages
American Trust Publications